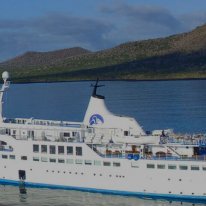 Legend | Galapagos Cruise Ship
This magnificent vessel has a capacity of 100 passengers, it is still small enough for a more intimate experience with friends and family. Three different decks offer a great variety of spacious and comfortable social areas such as a bar, a library, kids corner, a lounge and a sundeck with Jacuzzi. An auditorium is available for conferences. 
The Legend has 52 ocean view cabin plus 3 interior ones. The Junior Suites have a three meters panoramic windows. The Balcony suites have panoramic windows and a private balcony. Each cabin has air conditioning and private facilities.  Internal, local and international satellite telephone service is offered, Internet is accessible when anchoring in main islands. 
Explore all our cruises in the Galapagos Islands. 
Technical Specifications
Length

92m

CruisingSpeed

15 knots

MaxSpeed

17 knots

Passengers

100

ElectricalOutlets

110v