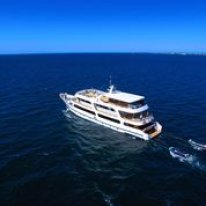 Galapagos Odyssey
The beautiful Motor Yacht Galapagos Odyssey invites you onboard to discover the unique wonders of the Galapagos Islands. Travel around the remote and most exceptional islands of the archipelago. The Galapagos Odyssey is a comfortable and spacious 16-passenger boat. The certified professional crew, attentive cruise director and the knowledgeable, bilingual naturalist guide on board will do their utmost to convert your once in a lifetime cruise into the trip of your life!
We offer 6 Day Southern Islands, 6 Day Western Islands & 5 Day Northern Islands itineraries exploring.

Our welcoming staff members are understanding, helpful and dedicated, to attend your requests promptly, which is possible thanks to our superb passenger-crew rate of 16:10 (including naturalist guide). All are Ecuadorian and speak mostly Spanish, but your naturalist guide,  barman, and the dedicated cruise director know English as well
We have 2x 6 Day & 1x 5 Day itineraries to choose from, to explore the wonderful Archipelago of Galapagos Islands. Each day we anchor at two carefully selected visitor's sites and organize at least two excursions. Our balanced excursion program is packed with activities to observe nature from different perspectives as well as leisure time. 

Locally built in Guayaquil in 2007, the Odyssey has been specifically designed for cruises the Galapagos Islands, minimizing the impact on the Archipelago's fragile ecosystem.
A sophisticated but yet cozy minimalist design, she resembles a first-class hotel, making it an excellent choice to navigate & explore.
Enjoy the amazing panoramic views from the whirlpool, or relax in one of the shaded areas and enjoy meals "Al Fresco" style in the dining area.
Cabins: Main Deck - 2 doubles and 2 Twin cabins.  Upper Deck - 2 Suites (Triple, twin or Double) and 2 Twin cabins. Lover Deck - 1 Single cabin. All cabins approx. 20m2  / 215ft, with en-suite, A/C, hairdryer & a small table and chair. Suites are larger in size to accommodate for 3 people or provide extra room for couples.
Facilities: Sun Deck - Solarium area, shaded area & whirlpool. Upper Deck - Shaded terrace & BBQ area. Main Deck - "Al Fresco: dining area, lounge with small library and bar. TV/DVD, Laptop, deck chairs, 8 inflatable tandem kayaks, 2 inflatable dinghies for 8 people.
Find all our cruises in Galapagos Islands here.
Technical Specifications
CruisingSpeed

10 knots / ca. 18,5 km/h

Length

41m / 134 fts

Passengers

16 passengers

ElectricalOutlets

110 V

Classification

First Class