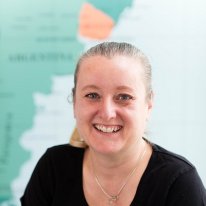 Emma Johnson
Destination Specialist
Although I live in Auckland New Zealand, with my husband and two young kids, I was born and raised in London, UK. Starting my career in the Travel Industry in 1995, my love to travel grew. I have explored many wonderful countries around the world and my dream was to travel South America. With the variety of cultures, beautiful people and amazing history I am lucky to have spent 6 months travelling around Cuba, Ecuador, Peru, Bolivia, Chile, Argentina and of course Brazil.
There were so many highlights, it's difficult to pick the best. So to name a few - Tubing down the Amazon River, shopping at local markets, sampling Pisco Sours! Dune-Buggy adventures in Huacachina, Inca Trail Trek , wine Tasting in Chile, staying with a local family on Lake Titicaca, enjoying the many different cuisines, seeing a Tango show in Buenos Aires, the amazing Iguazu Falls and of course ending my travels at Rio Carnival, celebrating my 30th.
My passion is to share my travel experiences with others and help my clients make the most out of their travels. I can guarantee your love for Latin America will grow from your first trip (You will want to go back!) I will look forward to helping you with your adventures soon!