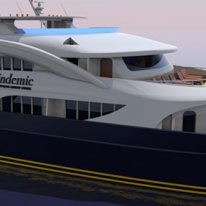 M/C Endemic | Galapagos Cruise Ship
Launched in summer 2018, the Galapagos Endemic has been designed especially for cruising the azure waters of the Galapagos Islands. It will be one of the most modern and luxurious ships in the archipelago. Spacious, comfortable, steady and eminently seaworthy, the Endemic features a hand-picked staff of officers, hospitality staff and crew to make your trip perfect. The top naturalist guides are well-trained, friendly and knowledgeable about the Islands and all of them have years of experience. That's not to mention the most important person on a cruise ship: the chef, trained in creating irresistibles meals out of the freshest ingredients!
Enjoy your Galapagos Island cruise onboard the Endemic catamaran , accommodating 16 passengers in 9 spacious double cabins with balcony, private bathroom, hot water, locker and closet, comfortable dining room, bar and lounge. Other amenities include open sky lounge, jacuzzi and a sundeck with chairs for sleeping or relaxing. 
Explore all our cruises in the Galapagos Islands.