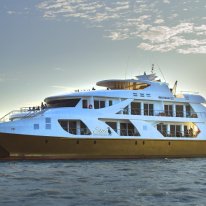 Elite | Galapagos Cruise Ship
The mega catamaran Galapagos Elite set sail in June 2019 with 16 guests on board. Reinventing luxury, comfort and class, it was specifically designed for sailing the sapphire waters of the Enchanted Islands.
As a sleek,twin-hulled catamaran, it provides its guests with a steady, safe cruise without the rocking and swaying common to the older, single-hulled yachts that dominated the island cruise industry for decades. In addition to better stability, the design of the Elite allows for more space for everything on board, including panoramic social indoor and outdoor areas and panoramic suites. Guests of all ages can enjoy the ample, semi-covered sky deck, the al fresco dining area and the cozy bar-salon on the sky deck. The Galapagos Elite features state-of-the-art navigation technology and safety equipment: safety and reliability are essential parts of any Galapagos luxury experience.
All Suites on board the Galapagos Elite are spacious, comfortable and well-appointed: the perfect place to relax and recharge after a day spent exploring the islands. Each suite has ocean view and outdoor private balcony and restroom. All suites can have either one king-sized or two twin beds. Unlike the heavy, round porthole windows of the older yachts, each suite on the Elite has grand windows offering panoramic views.
Technical Specifications
Length

37.5 m

Breadth

13.5 m

Passengers

16

CruisingSpeed

12 knots

Classification

Motor catamaran