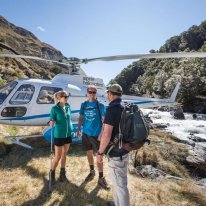 Alpine helicopters - Minaret Station
Minaret Station is accessible only by helicopter, with daily departures flying from Queenstown and Wanaka heliports. This is not your normal hotel transfer. Flying through spectacular mountain valleys, over snow-capped peaks and across braided alpine rivers, the journey into Minaret Station is up there amongst some of the world's finest scenic flights. And this we call a transfer! 
Flights are made using Squirrel AS350 and MD500E helicopters. These comfortable and very reliable machines have been specifically chosen for their suitability for mountain flying.