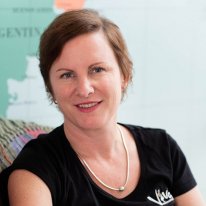 Rachel Williams
Founder & Managing Director
I left New Zealand after uni and headed to the UK on my 2 year OE - 10 years later I returned to New Zealand having worked for 7 years as a tour guide in Africa and South America and having also travelled extensively through the Middle East, Asia, Europe and the pacific.  I loved all of the places I visited but South America really captured my heart. I knew I wanted to give others the opportunity to experience the wonders of Latin America so they may feel the same excitement and passion that I do. It became apparent that there were limited adventure travel options for active, mature travellers in South America and myself and my partner Brendan had plenty of ideas of how to fill this void.
Back in New Zealand I worked for a time in the South America department of a large wholesale travel operator and I was surprised to find that no-one in the department had actually travelled to the continent - this is when I realised there was a great need for true South America travel expertise and that we were the perfect people to provide this.
Thus in 2009 we launched Viva Expeditions with the aim to provide quality small group expeditions & custom designed independent tours to South America. We haven't looked back!
As we have grown my role has changed from tour guide, to travel consultant, to a managerial role where I look after a team of incredible South America experts who all share as much knowledge & passion as myself. I am so proud of every one of them and so very grateful to have them on my team (over the next few weeks you will meet them too).
I still travel to South America every year as it is important for me to keep in touch with our crew who are based there, to travel on our tours and meet our guests, and to check out new hotels and excursions that are emerging each year. And also, most importantly, to satisfy my lust for life back in South America - a life of colour, culture, music and dance, of majestic landscapes and unspoilt vistas, where I have made so many wonderful friends that I call them my family.
I could go on all day about how much I love South America but we are all busy people so I will leave it at that. Thanks for the chance to introduce myself to you - if you want to hear more from me just stay tuned to our South America Travel blog.