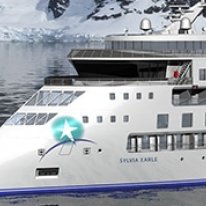 Sylvia Earle | Arctic & Antarctic Cruise Ship
Due to sail in October 2021, Sylvia Earle honours the highly accomplished marine biologist, oceanographer and explorer, Sylvia Earle As the first female chief scientist of the U.S. National Oceanic and Atmospheric Administration, and named by Time Magazine as its first Hero for the Planet in 1998 – this vessel pays tribute to Sylvia's long standing conservation efforts for marine protected areas and ocean wildlife. Sylvia Earle will be actively involved in the development of her namesake.
Crossing the notorious Drake Passage or the Denmark Strait, our expeditions face some of the most intense conditions nature can throw at us. The Sylvia Earle is at the cutting edge of nautical technology: robust, powerful and up to the task. The streamlined Ulstein X-BOW® cuts through the swell so you feel fewer vibrations and disturbances*, and makes quicker transits through waves. It also helps reduce our fuel consumption by up to 60%. Experience the Glass Atrium Lounge inside the bow, featuring huge windows and superb views to the front of the ship.
The Sylvia Earle will feature industry-leading safety technology that exceeds the requirements for a ship of this size with a world class return-to-port equipment, which duplicates the propulsion system, enabling the ship to maintain operating systems and comfort in the event of engine failure. The ship will also feature a fully-stocked medical clinic designed for use in remote areas. 
In between landings, enjoy the heated saltwater open air swimming pool and jacuzzis on board the Sylvia Earle and watch the world go by, or experience our gym, sauna or enjoy a massage (additional cost) in the Wellness centre.
Technical Specifications
Length

104 metres

Passengers

138

CruisingSpeed

10-12 knots