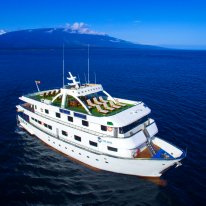 Solaris - Galapagos
Welcome aboard the First Class Motor Yacht Solaris, built in 2019. Discover the unique wonders of the Galapagos Islands with your own eyes. We will take you around the remote and most exceptional islands of the archipelago. Solaris is one of the larger 16 passenger yachts on the Galapagos Islands, guaranteeing an intimate, comfortable and very exclusive experience. Our certified professional crew and the knowledgeable, bilingual naturalist guide on-board will do their utmost to convert your once in a lifetime cruise into the trip of your life!
Enjoy amazing and unexpected encounters with the unique Galapagos Wildlife. Meet different types of animals that will open your eyes to species you have never seen before.

We have a combination of itineraries such as, 4 Day Northern Islands, 5 Day Southern/Central Islands, 8 Day Central/Western Islands and 8 Day Northern/Southern/Central Islands. All of which can be combines. Be sure to aks for more details & dates.The extra space onboard will add to your enjoyment & comfort. Feel the refreshing sea breeze and tropical sun, as you sail around the Galapagos Islands. Relax on a deckchair, read a book or enjoy the panoramic view.
Your professional chef & crew are there to treat you to a substantial breakfast, mouthwatering lunch & delicious dinners, all services buffet style.
This cruise is suitable fromcouples, to families & even solo travellers with Single cabins
Cabins: 5x Single Cabins, 4x Triple cabin with Queen Bed + 1 Single bed & 2 Cabins with a Queen bed + Double Sofa Bed, all with a Panoramic sea view window & en-suite.
The interior part of the main deck contains the mosder and comfortable living/dining room with sofas, tables and a buffet bar with tea/coffee station.  You will also find a flatscreen home cinema, DVD player and a small library.
Find all our cruises in Galapagos Islands here.
Technical Specifications
Length

36m /118.11 ft

CruisingSpeed

10 knots

ElectricalOutlets

110 V / 220 V

Passengers

16

Breadth

9m / 29.5ft

Classification

First Class