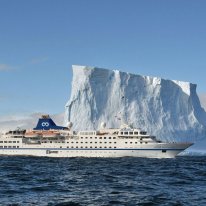 RCGS Resolute
One Ocean Expeditions introduces his new ship, the RCGS RESOLUTE.
Committed to environmental and social responsibility, One Ocean Expeditions offers passengers personalized
polar marine experiences in the most beautiful places on earth.
RCGS Resolute boasts large indoor and outdoor viewing platforms, and exceptional maneuverability, ideally equipped to guide guests through the world's most pristine regions, further expanding OOE's expertise in exploration and discovery. RCGS Resolute will carry a maximum of 146 passengers in unparalleled comfort, with an array of luxury amenities, educational opportunities and activities tailored to guests' particular interests, and individual, personalized service.
Check out our cruises in Central America.
Technical Specifications
IceClass

1AS, ice-strengthened vessel

Passengers

146