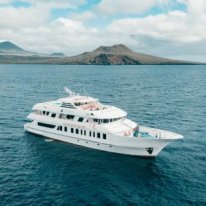 Queen Beatriz | Galapagos Cruise Ship
This modern motor yacht vessel can accommodate 16 passengers. Eight well-appointed cabins are available on board. Each cabin has ocean views, air-conditioning and private facilities. Common areas are comfortable and peaceful, from an indoor and outdoor bar to a Jacuzzi on the sundeck. All meals while on board are included as is 24 hour access to filtered water, tea and coffee.
Explore all our Galapagos cruises here.
Technical Specifications
Length

30.20m

MaxSpeed

12 knots

CruisingSpeed

10 knots

Passengers

16

ElectricalOutlets

110v