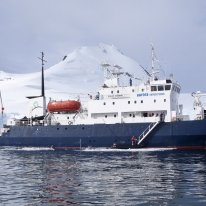 Polar Pioneer
Polar Pioneer is originally from Finland and built in 1982 as an ice-strengthened research vessel. In 2000 the ship was refurbished and converted into a passenger ship to be used in expeditions to the polar regions, Antarctica and Arctic. Polar Pioneer is perfect for the polar expeditions cruising due to her small size, maneuverability and strength, which makes it possible to sail up close to the landing sites where other ships cannot. 54 Passengers fit on the ship which offers a personal and intimate experience of the polar regions. The highly experienced expedition ice -navigators team takes care of you and makes sure you will have the best experience in the most remote regions of the world.
Various styles of accommodation types can be found on board from twin and triple cabins to larger suites.  All featuring outside facing windows or portholes. The cabins have either shared or private bathroom facilities whilst the larger suites have en-suite facilities and lounge areas. Furthermore, the ship has several features such as a lounge bar, two dining rooms, sauna, medical clinic and doctor, dedicated lecture and presentation room, daily cabin cleaning service, laundry service available. Also, there are decks with a spacious bridge, ideal for viewing the dramatic scenery and wildlife of the polar region. There is a fleet of inflatable Zodiacs ensuring easy travel from ship to shore and gumboots are provided for landings.
Explore our cruises to Antarctica here.
Technical Specifications
Length

71.6 m

Passengers

54

CruisingSpeed

10 knots

Breadth

50ft

ElectricalOutlets

Voltage: 220v. European round, two pin plugs

ElectricalOutlets

Ice Strengthened

Draught

15 ft