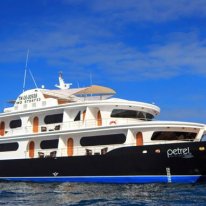 Petrel | Galapagos Cruise Ship
The Luxury Petrel, offers a deluxe way to visit the magical Galapagos islands. Named after a sea bird common to Galapagos, the Petrel is like its namesake: elegant, swift and silent at sea. Guests travel in comfort to the different islands, where they have up-close encounters with blue-footed boobies, iguanas, giant tortoises, whales and more. A motorized catamaran, the Petrel is designed for comfort and stability and is outfitted with spacious cabins, a comfortable lounge, and Jacuzzi. On the Petrel, we emphasize the remarkable Natural History of Galapagos, selecting guides who are knowledgeable about biology and ecology in addition to having excellent language skills and client reviews.
Check out our all Galapagos cruises here.
Technical Specifications
Length

35m

CruisingSpeed

10 knots

Passengers

16