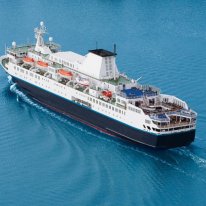 Ocean Endeavour | Antarctic & Arctic Cruise Ship
This comfortable and recently renovated ship is perfect for exploring the Polar Regions. With its ice-strengthened hull and Zodiacs for exploration and remote landings, the ship also boasts advanced navigation equipment. The ship offers a superb guest experience with an extensive range of cabin options, spacious lounge, contemporary dining, lecture theatre, library, polar boutique, sundeck, and plenty of deck space for observation of polar landscapes.
The most affordable Antarctica cruise itineraries have been created for the Ocean Endeavour. Please click the links below to see these tours.
The Ocean Endeavour is the only adventure ship in Antarctica that focuses on health and wellness with a range of newly-designed health and fitness features. From the "His and Hers" saunas to the heated salt water pool, gym, spa treatments and yoga classes, it offers services and amenities that will enhance your Polar expedition experience. In addition, there is a juice and smoothie bar and a wellness café. The ship is also equipped with a huge number of zodiacs including a forward facing option for the best views and photographs. 
Optional activities include kayaking, snowshoeing, hiking, yoga, camping and photography workshops along with a host of guest lectures and presentations from the experts.
Ocean Endeavour is the first ship in Antarctica to offer a limited number of dedicated SINGLE CABINS available to solo travellers at absolutely NO SUPPLEMENT! Additionally, for those who are interested in our share program, Ocean Endeavour has newly renovated "twin window plus" and "twin porthole plus" cabin categories, that feature two bathrooms.
The ship boasts one of the best guides to passenger ratio in Antarctica. (1:8)
Explore all our cruises to Antarctica.
Technical Specifications
Length

137 metres

Draught

5.6

CruisingSpeed

15 knots

Passengers

199

ElectricalOutlets

220 volts, 50 Hz.

Length

1B