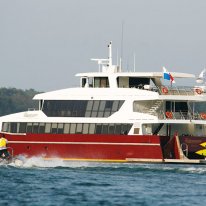 MS Discovery
Passenger numbers on the Discovery are limited to just 24, ensuring everyone can enjoy serenity and privacy together with the excitement and closeness of a true exploration cruise.
The Discovery is a 33 meter, purpose built catamaran providing 8 queen and 4 twin cabins. All cabins have individual climate control, bathrooms and huge windows which extend along the length of the cabin allowing you to enjoy the scenery in complete privacy.
The dining area, bar and lounge are located on the mid-deck which is fitted with floor to ceiling "glass walls" providing a spectacular dining experience and plenty of space to unwind. A BBQ and sun deck are located on the topmost observation deck.
The Discovery is equipped with a unique platform that lowers kayakers gently into the water and also retrieves them in perfect safety and comfort.
Technical Specifications
MaxSpeed

18 knots.

CruisingSpeed

15 knots.

Passengers

24

Classification

Catamaran

Length

33 mts

Draught

1.85 mts.