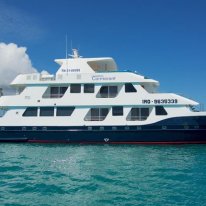 Cormorant | Galapagos Cruise Ship
This mega catamaran is a beautiful 16 passenger vessel. All cabins and suites have a panoramic ceiling to floor windows and private balconies. Social areas are comfortable and relaxing with a beautiful dining area with panoramic windows and a sun deck with  jacuzzi.
See all our cruises in the Galapagos Islands here.
Technical Specifications
Length

33M

Passengers

16