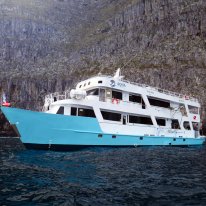 Aqua - Galapagos Dive & Naturalist Cruises
Divers will enjoy life on board the Motor Yacht Aqua. Cruise around the breathtaking outdoors of unique Galapagos Archipelago, taking in the best areas around the islands. Explore underwater the most incredible wildlife below the waves. Every day we anchor at two selected visitor's sites and organise at least two excursions. You will observe marine life from different perspectives with our balanced excursion program and even amazing birdlife during your spare time!

Yacht Aqua offers one 8 day Diving Itinerary & 4, 5 or 8 Day Naturalist Itineraries - The Diving Itinerary is only suitable for those with Diving Experience (more details on request). The  Naturalist cruise are suitable for anyone. Cruises can be combined.

Yacht Aqua was built in 1998 but was remodelled in 2019, so is nice and fresh. On-board you will find a dining room, bar, a conference area with TV, DVD player, chart games, small library of books & DVD's.
Cabins: Lower deck - 3 Triple cabins with lower double & single top bunk. Main Deck - 1 cabin with double lower bed.  Upper Dec - 5 cabins with a bunk bed (single lower & single upper bed).
Technical Specifications
Length

26m / 85 ft

Classification

Mid-range Adventure

Breadth

5.5 metre / 18 feet

CruisingSpeed

9 knots

Passengers

16