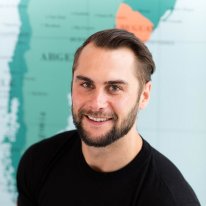 Saul Greenland
Marketing Executive
Hola! Ever since I left Devon, a southern coastal county in England, I realised there was so much more to the world than my sleepy rural town. First, I headed East to Asia and then West to the South American continent with an old mate. Backpacks on, we started our adventure in Rio for the fiestas and beach life.
However, the primary plan was to somehow get to Mexico rather than just drink Caipirinhas. We had a rough idea of the route, a map and a Lonely Planet. We travelled by bus, plane, canoe, cargo ferry, bicycle and on foot through the Pantanal, Bolivian Salt Planes, the worst road in the world in La Paz, the Inca Trail to Machu Picchu, down the Amazon to Manaus and flew up to the Mexican Beaches.
My passion is for positive travel experiences, not just for you but for the destination, environment and local population. My experiences have taught me that travel can be both a transformative experience and a tool to support conservation and economies. Here, at Viva Expeditions, we are striving to create more meaningful holidays using our first had expert knowledge of Latin America and Antarctica. It is my job to spread our messages far and wide to support your travel choices.