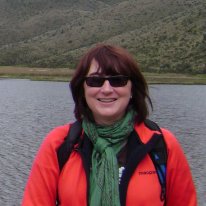 Kerren Knighton
Destination Specialist
My journey in travel began in the late nineties when I was escorting tours in Egypt, Turkey, Syria and India. From there I have had many jobs in travel working in retail, inbound and wholesale travel both in Australia and here in New Zealand. I am originally from Australia and moved to New Zealand for a year contract. During that time I met my husband and have stayed here in Auckland. Prior to Viva, I was working for about 9 years in adventure travel.
I love talking to people about travel. It is so rewarding putting together great itineraries and getting people excited about their upcoming travels. Personally, travel has given me so much from learning about cultures and history and enjoying amazing experiences. It is wonderful to have a career that allows me to help our clients put together their own amazing adventures. One of the funny things about travel is that even after all this time the bucket list keeps getting bigger, not smaller as I learn about all the beautiful and exciting places there is to visit. My travels so far have taken me to Europe, Africa, parts of Asia, India and Nepal.
A couple of years ago I had the opportunity to go to Ecuador and the Galapagos. Going to the Galapagos was truly amazing and quite different from what I expected. I hadn't realised that the snorkelling would be so amazing! Everywhere I looked there were animals, birds or fish. Staring out to sea you may just see a sea turtle pop its head out or you come across a beautiful beach with white powdery sand with a bunch of sea lions lazing about. If you do go to the Galapagos make sure you have time to explore Quito and its surrounds as well. Quito's old town is beautiful. The nearby Cotapaxi national park is great for the volcanos and mountain scenery. Otavalo markets in the Andean highlands north of Quito are great if you want to shop for handicrafts. The local Otavalan people love to bargain.