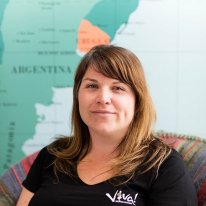 Helen Urban
Sales Support
My thirst for travel began at a young age when I realised that my immigrant parents were from other countries that were so very far from New Zealand, and there was a great wide world out there ready to explore. My first travel experiences were on family holidays, and then I left after university on my OE to roam around Europe, Africa and the Americas for several years.
I loved exploring and being around travellers and would travel and work as I went in backpackers, ski chalets, on canal boats, rose farms and in many, many kitchens and bars. The freedom of not knowing what was coming next was thrilling. Nowadays, with family in tow, our travel plans are more organised but the enticement of adventure is still there. I love meeting people from other cultures and experiencing the unknown of places I've never been and what sights, sounds and smells will greet me. I love different cuisines so the opportunity to try the local food (and drink!) when I'm travelling is always a highlight. Or getting involved in local custom, celebration or festival, from the quirky such as cheese rolling in England to the absolutely epic such as Burning Man in Nevada. A favourite memory is of driving down through Baja, Mexico with 3 friends and camping in the back of the car next to the Sea of Cortez, cooking our dinner on an open fire, swimming in the calmest mirror-like water I've ever seen, and all the incredible stars we could see in the clear desert sky.  
Working in travel gives me a thrill because I can share my passion with others and I love knowing that I'm helping people realise their dream of going on a great adventure.