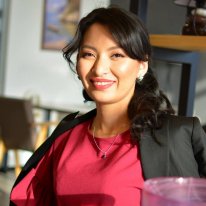 Gau Kurman
Marketing Executive
About myself
My adventure took its course soon after graduating from uni. I lived in China for 7 months to explore a beautiful culture and learned Chinese. I truly believe - there are no limits in travelling and life is too short to wait for the right moment. I've been lucky enough to visit some amazing parts of the world through personal travel and as part of my career. And South America is one of the places that stand out, I have a list of countries and places there as long as my arm still to tick off. I was born and raised in Kazakhstan, and had a chance to visit all Central Asian countries. When the opportunity arose to move to New Zealand, we packed our bags and set up life on the other side of the globe. Working in travel industry gives me an inspiration to explore this beautiful world and meet new people, helping them design their journeys and get unforgettable moments! Since traveling I found myself to be interested in learning other languages. I can speak 5 languages and Spanish is the next to learn. Besides traveling and spending time with my two kids, I am obsessed with digital marketing and yoga.
My favourite travel memory
The highlights of my life of travel include:
Randomly being invited to attend a stranger's wedding anniversary party in a village home in Uzbekistan

Volunteering in France

Feeling transformed after my first, life changing trip to UAE
What I like about my job
My passion is to inspire people to travel and share their experience with us. Also, I enjoy sharing practical tips and useful advice to inspire, educate and entertain other travellers. 
Where I want to go next
I wish to go on my favourite "Enchanting South America" tour as it's an absolute punch, combining local culture with awe-inspiring natural and historical highlights.