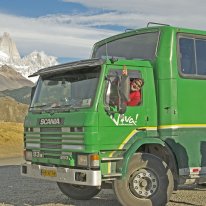 Franco De Antoni
Tour transport & logistics
Mel & Franco are out on the road in South America looking after our guests on our small group expeditions. Mel is our fabulous, super-organised and always ready to assist tour leader & Franco is our fun, lively and super reliable driver. Read more about Franco below . . 
FRANCO DE ANTONI
Franco is like a mixed lolly bag – he has an Italian father, a Swiss mother and speaks seven languages - German, Italian, Spanish, Portuguese, English, Romansch, French.
He spent his youth travelling around South America before deciding to live in Ecuador where over the course of 15 years he built his own house (from handmade bricks and wood from the Amazon jungle) as well as a popular campsite for overland travellers. Not one to shy away from adventure Franco has worked as a canyoning and absailing guide and even created a successful Canyoning & Bridge Swinging business near Banos in Ecuador.
A passion for driving and knack with bush mechanics has made Franco a popular choice for overland adventures (Africa, Middle East & South America) but his true love has always been South America and since 2010 Franco has been based on the continent working different routes including an eight month transcontinental tour.
Franco enjoys a great red wine, a juicy fat steak and the company of eager travellers ready to experience the delights of South America.
So if you join one of our small group tours in Patagonia or Peru there is a good chance Mel & Franco will be there to take care of you and to ensure your tour is the trip of a lifetime. But don't just take our word for is, see what so,e of our guests who have travelled with these guys have to say.
"What a great pleasure it was meeting Mel and Franco; those two are made for that job." - Mick Cook
"Spent 14 days on the Andean Explorer with our host Mel and driver Franco and had the time of our lives!" - Diane & Mark Caton
"Mel, Franco and other local guides gave us expert information about any thing and everything." - Esther & Geoff Burnie
"Franco was such a careful driver and Mel was a great guide. Both kept us on track, were very obliging and helpful thus we were able to get as much experiences as possible from our trip. I think you are very lucky to have Franco and Mel on your team." - Janice Mitchell
"Mel and Franco were wonderful as our tour leader and driver and made sure that everyone was well looked after." - Rachel Symons
"We had a wonderful time on the Ruta 40 / Carretera Austral with Melinda and Franco." - Sharon Lawlor & George Zubrzycki
"I can just give you extremely positive feedback! Melinda and Franco have been so kind and helpful!" - Alessia Gabbianelli & Alessandro Gera
READ FULL TESTIMONIALS - CLICK HERE