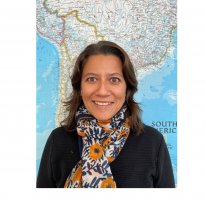 Daniela Wards
Destination Specialist
I absolutely love my culture…every single piece; culture, food, language, architecture, scenery… If I would have the chance to born again, it will be there … at the end of the world where you can see the driest desert and also the most magnificent glaciers. There are plenty of experiences that I would love to share with my clients; the smell of Cuzco walking through the main square, the first sight of Machu Picchu! Yes! That moment that you get breathless, and you think, is this real? Who builds this?
I can't forget my first trip to Bolivia and this constant feeling of being closer to the sky than ever before, the most colorful and amazing colours on the "cholas" (Indigenous Bolivia women) clothes and handcrafts. I still remember the moment when I jumped on a totora reed boat and sailed in the the immense Lake Titicaca, what an experience!
The Ruins in Mexico are so immense that again you can't believe that humans made them, and I also love the Moon Valley in the Atacama Desert where the most beautiful sky can be seen every single night.
Last but not the least, people! Latins are funny, extroverted, talkative, excellent dancers, intense … unique.
I am so glad to be back at Viva Expeditions and ready to make your experience unforgettable!